Breaking A Myth Of Offshoring Profitability In Textile Market.
Globally, machinery manufacturers are re-allocating their production plants. Rapid wage increases, rising transportation costs and the difficulty in effective quality control at offshore locations are leading them to re-assess the attractiveness of off-shoring production locations in the developing countries. These factors are encouraging many companies to relocate production closer to their markets. For instance, the US marketer, the No nonsense legwear brand which is a part of the Kayser-Roth Corporation partnered with Walmart for in-house manufacturing and has moved its production units to US rather than outsourcing to labor intensive countries like China which has become expensive in the recent times. TEXTILE MANUFACTURING MARKET TO GROW TO $945 BILLION BY 2020 ACCORDING TO THE BUSINESS RESEARCH COMPANY. The global textiles manufacturing market is expected to grow to $945 billion in 2020. The Americas was the largest region in the leather and allied products manufacturing market in 2016, accounting for $182 billion or 43.4% market share. This can be attributed to high disposable income, thereby fueling the demand for leather products.
According to The Business Research Company's Technology Consultant, Abdul Wasay, advances in wireless technologies and rising demand for connectivity is driving the demand for smart textiles. Smart textiles are fabrics capable of interacting with their environment. They have the ability to react to physical stimuli such as thermal, mechanical, electrical and chemical sources. Sensors, actuators and fabrics are the major components of smart textiles. The materials used in smart textiles include optical fibers, metals and conductive polymers. They are widely used in fashion, entertainment, medical, transportation, sports and fitness and military. For example, Cityzen Science's, d-shirt, has a wide range of functions such as heart rate monitor, built-in GPS, accelerometer, altimeter
Toray Industries Inc. was the largest company in the fabrics manufacturing market with revenues of $7 billion in the financial year 2015, an 13.4% increase from the previous year. Toray Industries' growth strategy is to focus on business expansion of its growing business fields of fibers, textiles, plastics and chemicals in emerging countries and regions. The textile industry comprises establishments that manufacture fiber, yarn, threads, carpets, rugs, linens and other textile products. This industry also comprises establishments engaged in processing fiber, yarn and fabric to produce finished products. The chart below shows the year-on-year growth of the global textile manufacturing market during 2016 - 2020.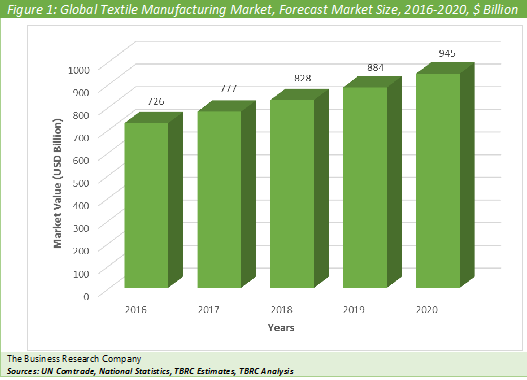 The textile industry is categorized into the following segments. Fiber, Yarn And Thread Mills comprise establishments that are involved in spinning yarn, manufacturing thread, texturizing, twisting, winding yarn and manmade filaments to produce hemp yarn and further process into ropes or bags. Fabric Mills include broad woven fabric mills, narrow fabric mills, non-woven fabric mills and knit fabric mills. They are engaged in weaving fabrics, felts and narrow fabrics and they also further finish and fabricate fabric products. Textile And Fabric Finishing And Fabric Coating Mills comprise fabric finishing and fabric coating mills. These establishments are primarily engaged in finishing textiles, fabrics and apparel. Finishing operations include bleaching, dyeing, printing, stone washing and other mechanical finishing. This industry also includes establishments engaged in coating, laminating, varnishing, waxing, apparel and rubberizing textiles. Textile Furnishing Mills include carpet, rug, linen and curtain mills. This industry engages in manufacturing carpets, rugs, floor matting, curtains, draperies, linens, bed sheets and towels. Other Textile include textile bags and canvas mills, rope, cordage, twine, tire cord, tire fabric mills and other miscellaneous textile. Textile Manufacturing Global Market Briefing is a detailed report giving a unique insight into this market. The report is priced at $1000 for an individual user. To use across your office the price is $1500 and $2000 if you wish to use across a multinational company. About The Business Research Company Visit TheBusinessResearchCompany.com, mail info@tbrc.info or call +447443439350 or +918897263534 or +919160996838 for more information on this and many other titles. The Business Research Company is a market research and intelligence company, which excels in company, market and consumer research. It has research professionals at its offices in the UK, India and the US as well a network of trained researchers globally. It has specialist consultants in a wide range of industries including manufacturing, healthcare, chemicals and technology. The Business Research Company's management has more than 20 years of varied business research experience. They have delivered hundreds of research projects to the senior management of some of the world's largest organizations.