Eco-Friendly Transformers Popular For Commercial Establishments
Transformer manufacturers are producing eco-friendly power transformers by using non mineral transformer insulating liquids. Eco-friendly power transformers use ester fluids such as insulating liquids which are extracted from vegetable oils. Ester fluids also have high flash and fire points suitable for use in areas requiring high fire safety standards. For instance, Siemens has a research department dedicated to the testing of thermal and electrical properties of esters and other insulating fluids for high voltage direct power transmission. The company will deliver fourteen ester insulated power transformers to the Glen Canyon Dam in Arizona. POWER, DISTRIBUTION, AND SPECIALTY TRANSFORMER MANUFACTURING MARKET TO GROW TO $52 BILLION BY 2020 ACCORDING TO THE BUSINESS RESEARCH COMPANY. The Business Research Company expects the power, distribution, and specialty transformer manufacturing market to grow to $52 billion in 2020. Asia Pacific was the largest region in the power, distribution, and specialty transformer manufacturing market in 2016, accounting for $20.5 billion or 44.5% market share.
According to The Business Research Company's Electronics Consultant, Sindhu Kanuri, transformer manufacturing market is moving towards evolution of independent and self-regulating smart transformers .Smart transformers are programmed to constantly regulate voltage and maintain contact with the stakeholders and provide information and feedback on the power supply. They provide exact amount of power that is needed and respond to fluctuations through a process known as voltage optimization. They significantly reduce greenhouse gas emissions and power consumption as they supply electrical equipment with the ideal amount of power. For instance, ABB Ltd.'s Smart-R-Trafo transformer is embedded with an on-load voltage tap changer that detects voltage changes and automatically adjusts the voltage ratio
Toshiba Corporation was the largest competitor in the power, distribution, and specialty transformer manufacturing market with revenues of $17 Billion for the financial year 2016 from Toshiba's energy and infrastructure division, which includes power, distribution, and specialty transformer manufacturing. Toshiba's growth strategy is to invest in emerging markets such as India which is witnessing rapid increase in power consumption. It invested $30 million in a new production facility. The power, distribution, and specialty transformer manufacturing consists of establishments engaged in the manufacturing of power, distribution and specialty transformers. Industrial and household transformers differ in terms of voltage such as step up and step down transformers. Power lines and distribution transformers are used to increase or decrease voltages. Transformers in this industry do not convert direct and alternating currents. Some equipment manufactured by these establishments in this industry include fluorescent ballasts, distribution transformers, substation transformers, transmission and distribution voltage regulators and electric power distribution. The chart below shows the year-on-year growth of the global power, distribution, and specialty transformer manufacturing market during 2016 - 2020.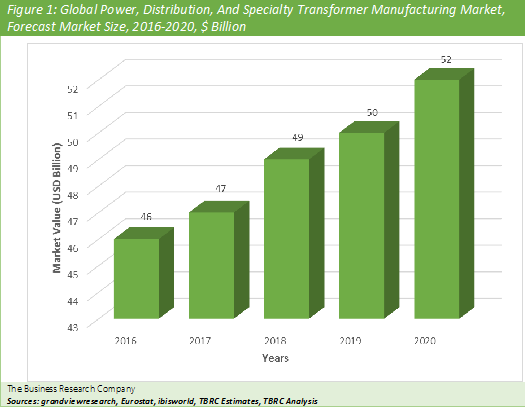 The power, distribution and specialty transformers manufacturing industry can be categorized as follows Power Transformers consist of a coil wrapped around an electromagnet that transfers electricity from one circuit to another circuit without a change in the frequency of electric current. . They are used in heavy load, high voltages and for step up and step down applications. They are rated above 200 MVA and have 100% efficiency. Distribution Transformers provide the final voltage transformation in the electric power distribution system to customers by reducing voltage to the level used by them. Distribution transformers mounted on utility poles are known as pole-mount transformers, whereas ground level or underground in steel cases are called pad-mount transformers. They are rated less than 200 MVA. These transformers work at an efficiency between 50-70% and are smaller in size as compared to power transformers. Specialty Transformers are used in sensitive applications, such as in an oxygenated environment, where current leakages may cause injuries. A grounded shield is placed between the primary and secondary coils in these transformers to reduce electromagnetic interference and prevent leakages. Specialty transformers are generally used in medical laboratories and x-ray machines. Power, Distribution, And Specialty Transformer Manufacturing Market Briefing is a detailed report giving a unique insight into this market. The report is priced at $1000 for an individual user. To use across your office the price is $1500 and $2000 if you wish to use across a multinational company.