Micro-housing Units to Meet the Growing Demand for Affordable Accommodation.
With the rise in the student enrollment and worker population developers and designers are beginning to focus on creating micro-housing units that provide housing options near universities at a reasonable price. Micro housing provides students with miniature spaces set up for sleeping, study and preparing simple meals. Micro unit houses give students and workers access to affordable accommodation. Many cities and countries are experimenting with micro-housing to meet the growing demand for affordable student and worker accommodation. For example, University Student Living of The Michaels Organization is currently developing micro units near Boston University between 325 and 400 square feet each offering a private kitchen and bathroom. The students' and workers' accommodation market comprises businesses that provide long term accommodation for residents in these categories. It includes housing provided by organizations for long-term housing of their employees. The accommodation may serve as a principal residence for the residents for the period of occupancy. The students' and workers' accommodation market includes the following accommodation types: Workers' Dormitories establishments provide sleeping and residential quarters for large numbers of employees. Dormitories or halls of residence provide single or multiple occupancy rooms for their residents. Migrant Workers' Camps businesses provide accommodation for migrant workers usually in buildings, tents, barracks, converted buildings and unconventional enclosures of living space. Dormitories, Off Campus Establishments provide sleeping and residential quarters for large number of people, often college or university students. These are halls located away from university facilities and sometimes have extra amenities such as a recreation room or bar. They may also contain basic kitchen facilities for students.
According to The Business Research Company's Hospitality Consultant, Ramesh Yelugoila, The growing number of international students seeking high quality education abroad is likely to drive the students' accommodation market during the forecast period. Student enrolment in higher education in 2014 stood at 164 million globally, and is set to increase by a further 32 million over the next ten years. By 2021, the number of internationally mobile students are forecast to rise to 3.9 million from just 3 million in 2011. For example, China is the biggest market for internationally mobile higher education students, with around 975,000 Chinese studying in the USA in 2015. Thus, growing demand from international students seeking student housing has fueled growth in the student accommodation market.
American Campus Communities was the largest company in the students and workers accommodation market in 2016 with generated revenues of $ 0.8 billion for the financial year 2015. American Campus Communities' growth strategy aims to increase its footprint by acquiring properties near colleges and universities. The company has acquired eight wholly owned properties across the USA that are already serving universities. It is also seeking to partner with colleges and universities to expand in the student accommodation market. The Business Research Company expects the global students' and workers' accommodation market to grow to $31 billion in 2020. The Americas was the largest region in the students' and workers' accommodation market in 2016, accounting for $10 billion. This was mainly due to a large number of student and migrant worker population. The chart below shows the year-on-year growth of the global students' and workers' accommodation market during 2016 - 2020.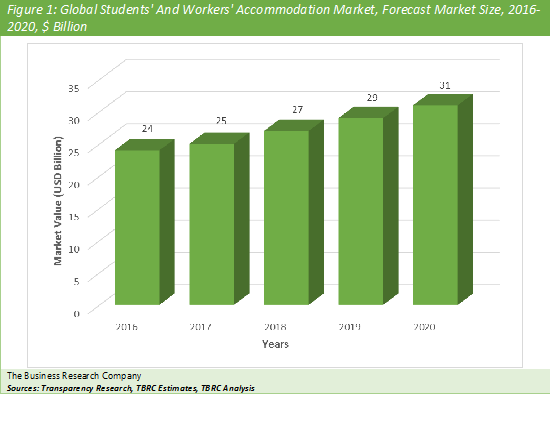 Global Students' and Workers' Accommodation Market Briefing is a detailed report giving a unique insight into this market. The report is priced at $750 for an individual user. To use across your office the price is $1500 and $2000 if you wish to use across a multinational company. About The Business Research Company Visit TheBusinessResearchCompany.com, mail info@tbrc.info or call +447443439350 or +918897263534 or +919160996838 for more information on this and many other titles. The Business Research Company is a market research and intelligence company, which excels in company, market and consumer research. It has research professionals at its offices in the UK, India and the US as well a network of trained researchers globally. It has specialist consultants in a wide range of industries including manufacturing, healthcare, chemicals and technology. The Business Research Company's management has more than 20 years of varied business research experience. They have delivered hundreds of research projects to the senior management of some of the world's largest organizations.