Wearable Artificial Kidney Gives Patient Freedom Of Movement
Wearable artificial kidney is a new trend shaping the nephrology and urology device market and replaces stationary hemodialysis machines. Traditionally, patients undergoing a renal replacement surgery had to be subjected to large blood cleansing machines, disabling free movement and freedom of living. In 2015, the FDA approved the clinical testing of wearable artificial kidney and in 2016, a prototype was tested in the University of Washington. The nephrology and urology devices market has been discussing the feasibility and development of artificial kidneys since more than a decade, and the future seems to be very promising as the test was successful with positive results. NEPHROLOGY AND UROLOGY DEVICES MARKET TO GROW TO $22 BILLION BY 2020 ACCORDING TO THE BUSINESS RESEARCH COMPANY. The Business Research Company expects the nephrology and urology devices market to grow to $22 billion in 2020. The Americas was the largest region in the nephrology and urology devices market in 2016, accounting for $6.1 billion or 35.4% of the market share.
According to The Business Research Company's Medical Equipment Consultant, Sandeep Kumar Bejini, minimally-invasive surgery refers to nephrology and urology surgical techniques that limit the size of incisions needed thereby decreasing wound healing time, pain and risk of infection. Interventional instruments are directed through the body using catheters instead of making large incisions needed in traditional surgery. NeoTract Inc. developed the UroLift System treatment to treat benign prostatic hyperplasia in men. The procedure involves lifting and holding the enlarged prostate tissue to remove blockage to the urethra. In comparison to traditional surgical techniques, this involves no cutting, heating or removal of prostate tissue. New treatment is also developed for enlarged prostate which involves prostate artery embolization by inserting a catheter into the femoral artery in the thigh. This minimally invasive treatment offers men with an enlarged prostate an effective treatment that results in fewer side effects, reduced risk of urinary incontinence and bleeding compared to other BPH therapies whilst also offering a better quality of life.
Baxter International Inc. was the largest company in the nephrology and urology devices market with 22% share of the market. Baxter International Inc. earned a revenue of $3.8 billion from renal division in 2015, a 9.2% decrease from the previous year. Baxter International's growth strategy is to improve its product offerings by investing in research and development activities. The company invested about $159 million in 2016 for research and development of its products, highest since 2014. Nephrology and urology devices are used in the treatment and diagnosis of diseases related to kidney (Nephrology) and genitourinary system including urinary tract systems of both genders and male reproductive system problems (Urology). Most commonly occur diseases related to those systems are chronic kidney diseases (CKD), kidney stones, end stage renal disease (ESRD), urinary incontinence, pelvic organ prolapse and benign prostatic hyperplasia (BPH). The chart below shows the year-on-year growth of the global nephrology and urology devices market during 2016 - 2020.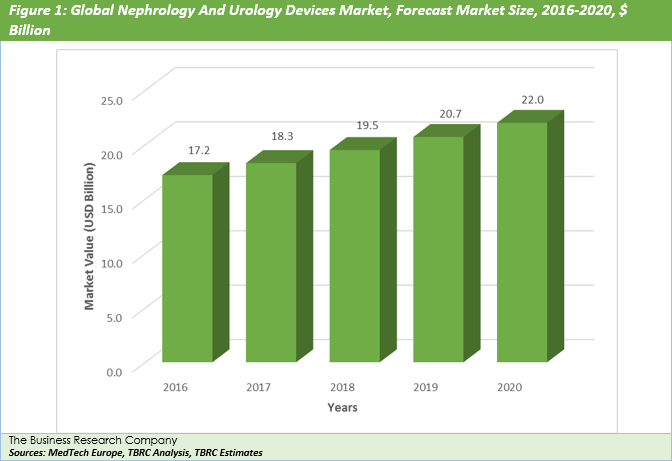 Nephrology And Urology Devices Market Global Market Briefing is a detailed report giving a unique insight into this market. The report is priced at $1000 for an individual user. To use across your office the price is $1500 and $2000 if you wish to use across a multinational company. About The Business Research Company Visit TheBusinessResearchCompany.com, mail info@tbrc.info or call +447443439350 or +918897263534 or +919160996838 for more information on this and many other titles. The Business Research Company is a market research and intelligence company, which excels in company, market and consumer research. It has research professionals at its offices in the UK, India and the US as well a network of trained researchers globally. It has specialist consultants in a wide range of industries including manufacturing, healthcare, chemicals and technology. The Business Research Company's management has more than 20 years of varied business research experience. They have delivered hundreds of research projects to the senior management of some of the world's largest organizations.