Digitization, IoT And Robotics To Increase Production Of Oil And Gas Industry With Limited Investments
The oil and gas industry has improved its technology or leveraged that of its service suppliers to match with the world's increasing hydrocarbon demand. Many oil and gas companies have made use of digitization, IoT and robotics to increase production with limited investment. These technologies enabled oil and gas companies to substantially decrease production costs and increase production volumes. For instance, Shell saved about $1 million from its Nigerian operations by placing monitoring devices on its wellhead equipment to monitor operating conditions in the well, thus indicating the role of IT technologies to reduce production costs and increase production volumes. OIL AND GAS MARKET TO GROW TO $6.1 TRILLION BY 2020 ACCORDING TO THE BUSINESS RESEARCH COMPANY The Business Research Company expects the global oil and gas market to grow from $5 trillion in 2016 to $6.1 trillion in 2020 at a compound annual growth rate (CAGR) of 5.4%. Asia Pacific was the largest region in the oil and gas market in 2016, accounting for $1.7 trillion or 33.8% of the market. This can be attributed to large consumer base and major economic development in countries such as India and China.
According to The Business Research Company's Consultant, Abdul Wasay according to the World Bank, the world's middle class population – defined as that earning between $10 and $100 per day – increased from approximately 1.5 to 2 billion between 2012 and 2016. This change was driven mainly by growth in the emerging markets such as China and India. Fuel usage in emerging economies is increasing rapidly. China's oil demand averaged 11.1 million barrels per day in 2015, a 7.5% increase from the previous year.
Aramco was the largest competitor in the oil and gas market with a revenue of $378 billion for the financial year 2014. To overcome the low oil price conditions prevailing in the oil and gas industry, Aramco is taking advantage of downstream industry. It is building additional refining capacity to capture more value from refining products. The company is also integrating energy and chemicals businesses to maximize income and reinforce its position in the global oil and gas industry. The oil and gas industry includes exploration, extraction, drilling, refining, transportation of oil and gas. The global oil and gas value chain can be divided into three segments – upstream, midstream and downstream. The upstream segment includes exploration, field development and production operations. Transportation, processing, storage and distribution are part of midstream segment. The downstream segment includes manufacturing, crude oil refining and marketing of oil and gas products The chart below shows the year-on-year growth of the global oil and gas market during 2016 - 2020.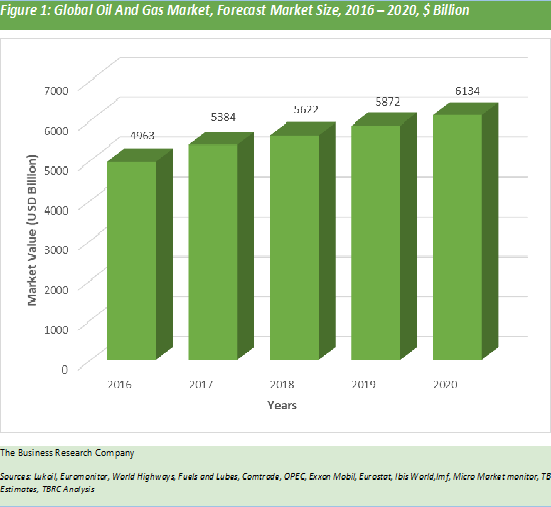 Oil and gas exploration involves extraction of hydrocarbons deposited beneath the earth surface. Most exploration depends on highly sophisticated technology to detect and determine the extent of deposits of oil and gas reserves. Oil and gas drilling includes assembling oil rigs, inserting and installing casing pipes and extracting oil and gas through perforating guns. Oil And Gas Market Global Briefing 2017 is a detailed report giving a unique insight into this market. The report is priced at $1000 for an individual user. To use across your office the price is $1500 and $2000 if you wish to use across a multinational company. About The Business Research Company Visit TheBusinessResearchCompany.com, mail info@tbrc.info or call +447443439350 or +918897263534 or +919160996838 for more information on this and many other titles. The Business Research Company is a market research and intelligence company, which excels in company, market and consumer research. It has research professionals at its offices in the UK, India and the US as well a network of trained researchers globally. It has specialist consultants in a wide range of industries including manufacturing, healthcare, chemicals and technology. The Business Research Company's management has more than 20 years of varied business research experience. They have delivered hundreds of research projects to the senior management of some of the world's largest organizations.