Brick-And-Mortar Stores Are A New Trend In E-Commerce World
In 2014, many e-commerce retailers started offline stores. Birchbox, an e-commerce store opened its first physical store in Soho and companies like Bonobos and Warby Parker doubled the number of their brick and mortar stores in 2014. E-commerce retailers setting up offline stores are good news for brick and mortar concept because it validates the need for physical stores. RETAIL MARKET TO GROW TO $29 TRILLION BY 2020 ACCORDING TO THE BUSINESS RESEARCH COMPANY The Business Research Company expects the global retail market to grow from $23.3 trillion in 2016 to $29 trillion in 2020 at a compound annual growth rate (CAGR) of 5.6%. Asia Pacific was the largest region in the retail market in 2016, accounting for $7 trillion or 30.1% of the market. The region's large consumer population, positive government policies, and high demand for good quality products resulted the large retail market in Asia Pacific.
According to The Business Research Company's FMCG Consultant, Girish Kavali, many retailers are adopting a robust and cohesive strategy for data analytics in management. From running an efficient supply chain to streamlining operations to engaging customers and building loyalty, data has become critical for most retail operations. With the growing amount of retail data and the availability of technologies to analyze data it will become easier for retailers to identify and meet the needs and expectations of their customers.
Wal-Mart was the largest competitor in the retail market in 2016 with net revenues of $482 billion for the financial year 2016. Wal-Mart's strategy is to invest to differentiate on access, be competitive on assortment and deliver a great experience. Since retail environment is more competitive today with e-commerce, they will be focusing on e-commerce segment. Retailers provide the service of making goods available to consumers in convenient quantities and locations. Retailing involves buying from wholesalers or direct from manufacturers, breaking bulk, displaying goods for sale either physically or online, and sometimes delivery. Wholesalers are independent organizations in the distribution channel that buy in bulk and sell to resellers rather than to consumers. Both retailers and wholesalers take ownership of the goods and so bear the risk of carrying inventory. They also reduce the total number of transactions required for the process of transferring goods from manufacturers to consumers. The chart below shows the year-on-year growth of the global retail market during 2016 - 2020.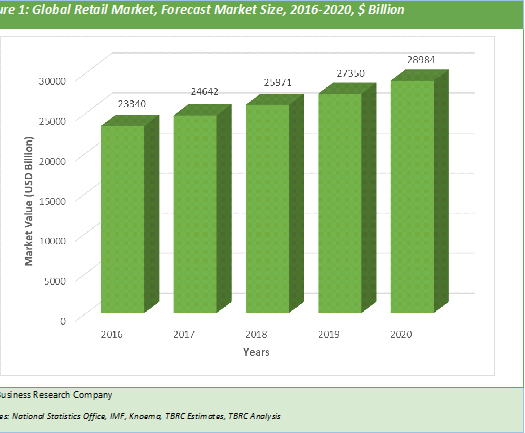 Retail Market Global Briefing 2017 is a detailed report giving a unique insight into this market. The report is priced at $1000 for an individual user. To use across your office the price is $1500 and $2000 if you wish to use across a multinational company. About The Business Research Company Visit TheBusinessResearchCompany.com, mail info@tbrc.info or call +447443439350 or +918897263534 or +919160996838 for more information on this and many other titles. The Business Research Company is a market research and intelligence company, which excels in company, market and consumer research. It has research professionals at its offices in the UK, India and the US as well a network of trained researchers globally. It has specialist consultants in a wide range of industries including manufacturing, healthcare, chemicals and technology. The Business Research Company's management has more than 20 years of varied business research experience. They have delivered hundreds of research projects to the senior management of some of the world's largest organizations.