NOACs Are Gaining A Wide Audience
NOACs are gaining wider acceptance and are replacing traditionally used anti-coagulants such as Warfarin and Heparin. Anti-coagulants have long been used in prevention of thrombus formation in patients suffering with cardiovascular diseases. Use of NOACs makes it easier for patients to continue therapy post discharge as opposed to injections of Heparin and Warfarin which need medical assistance for administration. Some of the NOACs include Pradaxa (dabigatran etexilate) from Boehringer Ingelheim, Xarelto (rivaroxaban) from Janssen, and Eliquis (apixaban) from Bristol-Myers Squibb. CARDIOVASCULAR DRUGS MARKET TO GROW TO $138 BILLION BY 2020 ACCORDING TO THE BUSINESS RESEARCH COMPANY The Business Research Company expects the global cardiovascular drugs market is expected to grow from $126 billion in 2016 to $138 billion in 2020 at a CAGR of 2.2%. North America was the largest region in the cardiovascular drugs market in 2016, accounting for $50 billion or 39.8% market share. This can be attributed to the high level of healthcare facilities, awareness among people, and GDP of the country.
According to The Business Research Company's Healthcare and Biotechnology Consultant, Ravikiran the Food and Drug Administration (FDA) in the USA has approved new drugs for treatment of chronic heart failure. Chronic heart failure is a cardiovascular disorder caused by an inadequate cardiac output (ability of the heart to pump blood). In April 2015, the Food and Drug Administration (FDA) in the US approved Corlanor, a chronic heart failure drug that can be used by patients with symptoms of stable heart failure, and a normal heartbeat. Similarly, in July 2015, FDA approved Entresto that can be used to reduce the risk of cardiovascular death and heart failure hospitalization.
Merck & Co. was the largest company in the cardiovascular drugs market with revenues of $9.8 billion for the financial year 2016. Merck & Co.'s growth strategy is to enhance its global cardiovascular business by expanding its research facilities. In January 2017, the company started the construction of its new research facility in South San Francisco which is expected to be ready by 2019. This facility is expected to have nine stories and 290,000 square feet of research and office space that will be used for research on cardiovascular, metabolic and renal diseases. Merck & Co. is also actively recruiting scientists for its new research facility. The chart below shows the year-on-year growth of the global cardiovascular drugs market during 2016-2020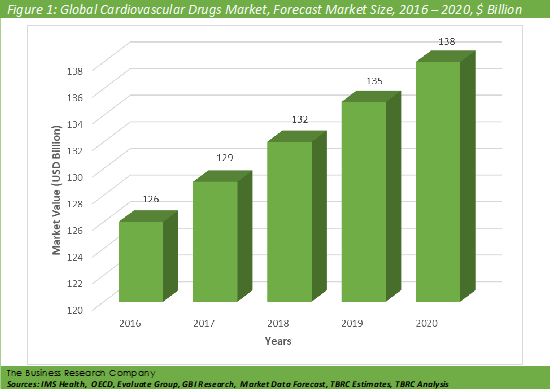 Cardiovascular drugs market covers drugs used to treat conditions that affect the heart or blood vessels. These conditions include heart stroke, coronary artery diseases, valvular diseases, peripheral venous diseases, pericarditis, endocarditis, cardiac tumors, arteriosclerosis, and lymphatic diseases. Some of the major cardiovascular drugs include anti-hypertensive drugs such as calcium channel blockers and Angiotensin II receptor antagonists, and hypolipidemic drugs such as fibric acid derivatives and bile acid binding resins. The market numbers within this briefing are restricted to pharmaceutical (drug) treatments and do not cover biologic treatments for these conditions which are included in a separate briefing. The cardiovascular drugs industry is further classified as follows – • Anti-Hypertensive Drugs • Hypolipidemic Drugs • Antithrombotics Drugs • Other (Congestive Heart Failure, Antiarrhythmic and Antianginal) Drugs Cardiovascular Drugs is a detailed report giving a unique insight into this market. The report is priced at $4000 for an individual user. To use across your office the price is $6000 and $8000 if you wish to use across a multinational company. About The Business Research Company Visit TheBusinessResearchCompany.com, mail info@tbrc.info or call +447443439350 or +918897263534 or +919160996838 for more information on this and many other titles. The Business Research Company is a market research and intelligence company, which excels in company, market and consumer research. It has research professionals at its offices in the UK, India and the US as well a network of trained researchers globally. It has specialist consultants in a wide range of industries including manufacturing, healthcare, chemicals and technology. The Business Research Company's management has more than 20 years of varied business research experience. They have delivered hundreds of research projects to the senior management of some of the world's largest organizations.