Collaboration In The Oncology Market Drives Innovation
Companies in the oncology drug market are increasing their product innovation through strategic collaborations. To sustain in the increasingly competitive oncology drug market, companies are developing innovative products as well as sharing skills and expertise with other companies. While companies have long collaborated with each other as well as academic and research institutions in this market by striking partnering, in or out licensing deals, this trend may have increased in recent years. For instance, in January 2016, AstraZeneca and Moderna Therapeutics entered into a collaboration to discover, co-develop and co-commercialize immuno-oncology mRNA therapeutics for the treatment of cardiovascular, metabolic and renal diseases as well as selected targets in oncology. Servier and Novartis have also extended their collaboration to co-develop and commercialize anti-Mcl-1 drug candidates for cancer treatment. ONCOLOGY DRUG MARKET TO GROW TO $154 BILLION BY 2020 ACCORDING TO THE BUSINESS RESEARCH COMPANY The Business Research Company expects the global oncology drugs market to grow from $117 billion in 2016 to $154 billion in 2020 at a compound annual growth rate (CAGR) of 7.0%. North America was the largest region in the oncology drugs market in 2016, accounting for $36 billion or 31.4% market share. North America has the highest GDP that allows it to afford the latest and patented oncology medicines which are comparatively higher or difficult to access when compared with other regions.
According to The Business Research Company's Healthcare and Biotechnology Consultant, Ravikiran, companies are increasingly using cancer biomarkers in the drug development process. Cancer biomarkers are molecules secreted by a tumor or a specific response of the body to the presence of cancer. Identifying and targeting these can enhance cancer detection and facilitate high-speed noninvasive diagnosis using genomics and proteomics tools. It can also help predict the drug efficacy faster than conventional clinical endpoints, the point at which an undesired or abnormal effect of the drug is observed indicating withdrawal from therapy. Companies in this market are investing in the development of biomarkers for use in various activities such as tracking drug activity, the pharmacodynamics of drugs and to study diseases and treatment pathways. For instance, Nektar Therapeutics is developing and using biomarkers in drug development processes of its pipeline drugs NKTR-214 and NKTR-181. Janssen's research & development is also focusing on identifying predictive markers or stratification markers to help target the new therapies.
Roche was the largest competitor in the oncology drugs market in 2016 with revenues of $21.8 billion for the financial year 2016. Roche's growth strategy aims at increasing revenues from its laboratory business by introducing new medicines into the market. In 2016, the company launched four new medicines Cotellic, Alecensa, Venclexta and Tecentriq. In addition, five FDA breakthrough designations were granted for Roche medicines in 2016. Oncology deals with diagnosis, prevention and treatment of cancer diseases. Anti-cancer or anti-neoplastic agents are the drugs that prevent or inhibit or halt the proliferation and maturation of neoplasms, an abnormal growth of tissues commonly referred as tumors. These drugs prevent the growth of malignant tumors by affecting the process of cell division or by damaging the DNA and initiate apoptosis or by preventing the development and spread of neoplastic cells. Several types of cancers that can be treated by oncology drugs are blood cancer, lung cancer, endocrine cancer, bone cancer, gastric cancer, colorectal cancer, skin cancer, breast cancer, pancreatic cancer, prostate cancers, ovarian cancer, ocular cancer and others. The chart below shows the year-on-year growth of the global oncology drug market during 2016-2020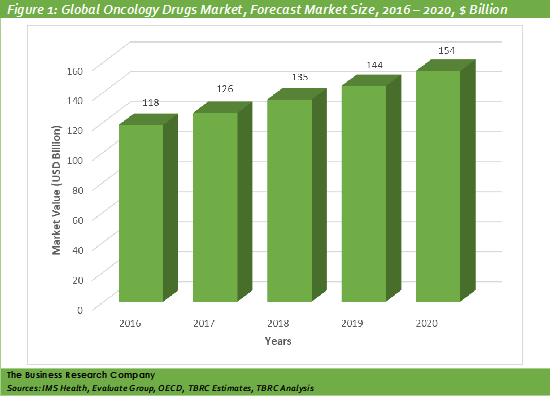 The market numbers within this briefing are restricted to pharmaceutical (drug) treatments and do not cover biologic treatments for these conditions which are included in a separate briefing. Based on the type and stage of cancer, treatment options include Surgery, Radiation therapy, chemotherapy, immunotherapy, targeted therapy, hormone therapy, and stem cell transplant. In most cases, a combination of more than one type of treatment is chosen. Treatment with drugs include the following categories – • Chemotherapy Drugs • Immunotherapy Or Biologic Therapy Or Biotherapy Drugs • Targeted Therapy Drugs • Hormone Therapy • Stem Cell Transplants Oncology Drugs Market Global Report 2017 is a detailed report giving a unique insight into this market. The report is priced at $4000 for an individual user. To use across your office the price is $6000 and $8000 if you wish to use across a multinational company. About The Business Research Company Visit TheBusinessResearchCompany.com, mail info@tbrc.info or call +447443439350 or +918897263534 or +919160996838 for more information on this and many other titles. The Business Research Company is a market research and intelligence company, which excels in company, market and consumer research. It has research professionals at its offices in the UK, India and the US as well a network of trained researchers globally. It has specialist consultants in a wide range of industries including manufacturing, healthcare, chemicals and technology. The Business Research Company's management has more than 20 years of varied business research experience. They have delivered hundreds of research projects to the senior management of some of the world's largest organizations.