Bring Your Child To Work Policy Helps Employees Achieve Work Life Balance
Companies are offering corporate child care services to help employees to achieve work life balance. Corporate child care is a specific form of child care sponsored or managed by an employer. Companies are either offering in-house child care centers or partnering with the local child care centers to offer the services at discounted rates as a perk for attracting and retaining top employees. For instance, Goldman Sachs has opened an on-site day care center in their offices in Tokyo and New York. In locations where they are not able to provide onsite nursery facilities, Goldman Sachs has partnered with local day care centers. Exxon Mobil has selected Bright Horizons to operate child day care center in Houston campus. CHILD DAY CARE SERVICES MARKET TO GROW TO $194 BILLION BY 2020 ACCORDING TO THE BUSINESS RESEARCH COMPANY The Business Research Company expects the global child day care services market is expected to grow from $162 billion in 2016 to $194 billion in 2020 at a compound annual growth rate (CAGR) of 4.6%. North America was the largest region in the child day care services market in 2016, accounting for $73 billion or 45.0% market share. This was mainly due to presence of a large number of working women population in the region.
According to The Business Research Company's Services Consultant, Ramesh Yelugoila, child day care centers are leveraging technologies to allow parents to stay connected with their children when they are away for work. Many daycare centers are using apps to provide video streaming of classroom activities and send pictures of kids to parents. This technology enables parents to monitor their child activities at the care center by accessing videos and pictures. For instance, Trust Child Care Centers partnered with Parent Care Network to provide video over the internet to parents where they can monitor child activities at the daycare center. Cresthill Academy is utilizing technology to maximize communication and connection by providing information about child's activities.
Bright Horizons Family Solutions Inc. was the largest competitor in the child day care services market in 2016 with a 0.94% share of the market. Bright Horizons Family Solutions growth strategy aims at increasing market share and expanding its operations through acquisitions. In November 2016, the company acquired Asquith Day Nurseries & Pre-Schools for approximately $206 million. The company also acquired four centers in the United States and eight centers in the United Kingdom in four separate business acquisitions for $18 million. In May 2015, Bright Horizons acquired Hildebrandt Learning Centers, LLC, for $19.2 million. The chart below shows the year-on-year growth of the global child day care services market during 2016-2020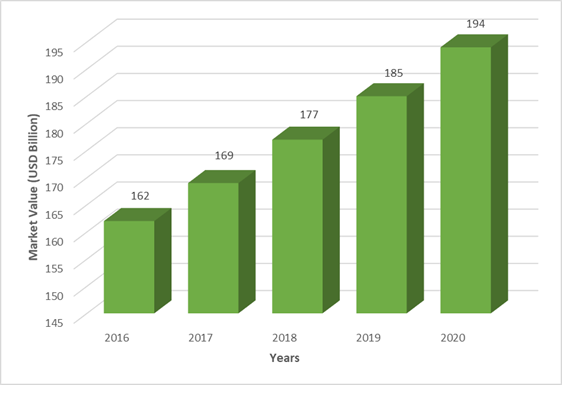 The child day care services market include establishments offering day care for infants or children. These establishments provide care services for preschool children, and for older children when they are not in school. Some of these establishments also offer pre-kindergarten education. This market includes both government and private child care services. The industry can be further classified as follows • In-Home Care • Family Child Care • Center-Based Care Child Day Care Services Market Global Briefing 2017 is a detailed report giving a unique insight into this market. The report is priced at $1000 for an individual user. To use across your office the price is $1500 and $2000 if you wish to use across a multinational company. About The Business Research Company Visit TheBusinessResearchCompany.com, mail info@tbrc.info or call +447443439350 or +918897263534 or +919160996838 for more information on this and many other titles. The Business Research Company is a market research and intelligence company, which excels in company, market and consumer research. It has research professionals at its offices in the UK, India and the US as well a network of trained researchers globally. It has specialist consultants in a wide range of industries including manufacturing, healthcare, chemicals and technology. The Business Research Company's management has more than 20 years of varied business research experience. They have delivered hundreds of research projects to the senior management of some of the world's largest organizations.