Identification and Assessment of Technology 'Hotspot' Areas for Early Investment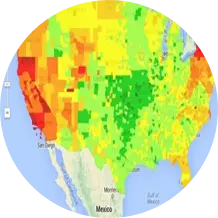 Requirement
An investment company focussing on early-stage technology investment wanted to get an assessment of 'hotpots', where there was a high level of development and entrepreneurial activity and investment interest, for further research. Some areas for investigation included: Financial software development Mobile gaming applications Health IT services 3D printing Analytics software Others to be suggested by TBRC
Solution
TBRC delivered a detailed report covering: Key characteristics and growth estimates for each market Development landscape in each area Example case studies involving companies in these sectors Example deals and benchmark valuations Road map of key characteristics of highly valued companies TBRC identified and analyzed the following additional areas meeting the client's criteria: Mobile social networks and communication RFID
Methodology
TBRC conducted research through: Secondary research: industry journals, blogs, company websites, incubator websites, tech transfer websites., financial deal databases Primary research: 10 interviews with start up companies 5 interviews with interview experts and commentators. 5 interviews with PE firms and other investors active in the sector.
Client Benefits And Feedback
Client identified three 'hotspots' as worthy of further investigation. Utilized TBRC's road map of company characteristics within the target identification stage of their study.